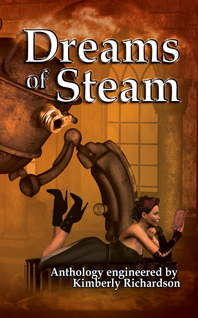 Travel back to a time when steam powered inventions ruled the land, water, and sky. It's a time of extraordinary contraptions and innovative ideas created by men and women who dared to ask the question, "What if?" Peer through the glazed window into a world long gone, but not forgotten. Make a cup of tea, find a comfortable chair, strap on your goggles, and be amazed at the power of steam!
The Tales:
Flight of the Dragon - Rachel Pixie - Fantasy goes Steampunk.
Dead Man's Hand - Jared Millet - Things that go bump in the night are not what they seem.
The Bunker - Stephanie Osborn - The tale of an unlikely hero and his invention.
Black Rhino - M. Keaton - The jungles of Africa hold deep and dangerous mysteries.
The Ballad of Angelina Calamity - Angelia Sparrow - A tale of a legendary and fearless woman.
Endeavour of the Rose: A Chronicle of Atlantis - Sidney M. Reese - Books, nergils, and airships, oh my!
Blood and Brass: The Poem of Sylvia Weathersby - Kimberly Richardson - One woman and her role in a deadly war.
Five Copper Bowls - Dale Carothers - A most unique nod to mad scientists and their monsters.
For the Love of Steam - Missa Dixon - A story of romance told from a most unlikely narrator.
In the Mountain Skies - Stephen Zimmer - The battle of good vs. evil in the American West.
Harry Was One of Us - Sara M. Harvey - A most daring rescue of a man who is already dead.
Engine 316 - Nick Valentino - Sometimes, it is better to just walk away.
An Odd Demise - Allan Gilbreath - A Dickens of a murder mystery!
Artificial Love - Dwayne DeBardelaben - Love can come from the most unusual places.
Phoenix - H. David Blalock - Dreams are meant to come true.
Ultimate Weapon - Jeff Harris - Pirates, bombs, and Brittany Spears: any questions?
Long Shots - Kirk Hardesty - David vs. Goliath, Steampunk style.
---

Rachel Pixie is a 2011 Darrell Award Finalist for Best Short Story for
Flight Of The Dragon
!
H. David Blalock is a 2011 Darrell Award Semi-Finalist for Best Short Story for
Phoenix
!
Missa Dixon is a 2011 Darrell Award Semi-Finalist for Best Short Story for
For The Love Of Steam
!