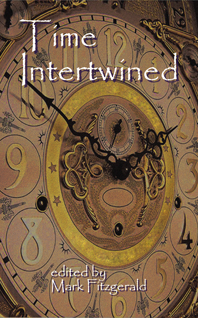 Time Intertwined
is a rare collection of premier writers with a challenge in common - to write the best story they can with time as the central theme. They take us on a literary exploration of one very simple fact; time, that basic, measurable unit of existence, is always with us. Occasionally, time is a friend, just as often, it's not. It can feel like everything you do is defined by it, controlled by it, and measured by it, yet we only think about it when it runs out. Our writers intertwine the past, present, and future into a masterful anthology.
Burying The Past
- a very deadly question about time, family, and the future.
Intermission
- if you could change history, should you?
A Life To Remember
- just what would you do for a memory?
Pictures From The Elsewhen
- an extra sense is not always a good thing.
By The Numbers
- why sticking to the plan is so important.
A Dove Before Dawn
- a journey into the world of high fantasy, honor, and vengeance.
Perdita
- shows us how a person can lose herself in time.
Darkness
- takes us along on a forbidden adventure away from the light.
The Forgetful One
- just what do age, memory, and time mean to each other?
Eighth Friday
- what would it take to make you change your world?
Time For Sale
- just how far would you go to win a bet?
Spendor In The Dust
- the past is truly gone, isn't it?
Patience Is Waiting
- even the most careful plans can miss a spot.
Time To Come Out And Play
- what if the time doesn't come?
***Featuring the 2007 Darrell Award Honorable Mentions for Best Short Story
"Time to Come Out and Play"
by Allan Gilbreath and
"Darkness"
by James Ferris.***
---
Featuring:
Stacy J. Sluys
***
Sal Amico M. Buttaci
***
Everette Bell
Kathleen Clauson
***
Allan Gilbreath
***
William A. Kooiker
Rekha Ambardar
***
James Ferris
***
Patricia Wellingham-Jones
Dean Christianson
***
David-Matthew Barnes