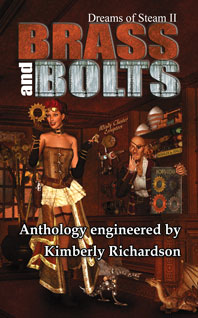 Murder, mystery, and amazing steam technology come together to give you a dark taste of the prim and proper Victorian age. Steampunk teases your imagination with the fantastic and makes dreams a reality. These 25 incredible stories will take you to a time in history when crazy inventions and scandal were born.
Enjoy a sample. Click the link and the pdf will open.
Of Heroes and Airships
The Tales:
Of Heroes and Airships - Victor Lorthos - One reporter's unforgettable journey!
Death With A Glint Of Bronze - Sean Taylor - Criminal hands hide dirty secrets.
For The Fear Of Steam - Missa Dixon - Charlie is back with new friends and adventures!
Dreams Of Freedom - Len Berry - Texas honor comes to London!
The Real Magic - H. David Blalock - Sometimes, the real magic comes from within.
The Third Eye - Alexander S. Brown - How far would you go to solve a murder?
In Tesla's Court - Robert Cerio - Twain, Tesla and time travel!
Commander Tesla Versus The Holy Roman Empire - Phillip R. Cox - Nikola Tesla prepares for war!
Protege - Dwayne DeBardelaben - Have you ever been happier in your life?
The Perfect Woman - Kara Ferguson - How far will you go to find that "special" someone?
The Tale Of Lady Helvetica - Christopher Friesen - Murder most foul, but with serious style.
The Locked Door - Allan Gilbreath - Inspector Peele faces another phenomenal mystery!
Great Minds - Jeff Ollen Harris - What would you use to fuel your rocket?
Grass Elephant - M. Keaton - Return to the Dark Continent!
Cicada Summer - Jon Klement - A brave girl faces an alien menace in the old West!
The Big Golden Apple - Cindy MacLeod - One man's folly is truly his reality.
The Automated Man - Alli Martin - Going against the grain can sometimes give ironic results.
Jumping The Rails - Jared Millet - Man vs. Machine . . . or is it?
Chilled Meat - J. L. Mulvihill - Can murder ever be fair play?
Steam Race - Herika R. Raymer - Gas vs. Steam: the race is on!
Winnet's Octavian - Laura H. Smith - A young girl goes far to protect her only friend.
The Devil's Children - Angelia Sparrow and Joy Coop - Family comes first, no matter what.
The Boys In The Boiler Room - David Tabb - Sam Spade, Steampunk style!
Bedeviled - Nick Valentino - Demonic torment for the greater glory of art.
The Island Sojourn - Stephen Zimmer - Harvey the cat solves another case!
---

Victor lorthos is the 2012 Darrell Award Winner for Best Short Story for
Of Heroes and Airships
!
Allan Gilbreath is a 2012 Darrell Award Finalist for Best Short Story for
The Locked Door
!
Laura H. Smith is a 2012 Darrell Award Finalist for Best Short Story for
Winnet's Octavian
!