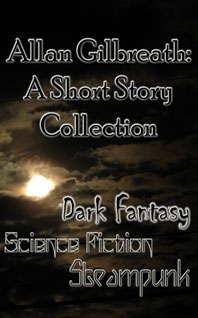 Discover 19 extraordinary stories ranging from dark fantasy to science fiction and steampunk. Allan Gilbreath has created a stimulating collection of possessed raccoons, doubtful demons, secret potions, Hellish mornings, murderous black holes, dangerous missions, miniature dragons, fake vampires, real ducks, and a cranky detective. This collection showcases Allan's astounding attention to detail and the sensual imagery his works are famous for.
The Stories:
My House - Enjoy a new house complete with a demonic raccoon.
The Little Demon Doubt - Infidelity and a knife thrower.
Afternoon Lemonade - How to straighten out those pesky teenagers.
By The Numbers - Why you should always stick to the plan.
Just Beneath the Surface - Are you doing the right thing for all the wrong reasons?
Good Intentions - As a matter of fact, the road to Hell is paved by the Good Intentions Paving Company.
Time To Come Out And Play - How do you find something you don't believe in?
Twilight's Last Gleaming - If you could travel in time, could you just sit by and watch?
First Impression - How do you make a good first impression with an alien species?
The Glamour Of It All - Now you know how those interstellar cruise ships stay so squeaky clean.
Origins - Accidents and dragons do happen.
Anatidaephobia - Two nuns and a vampire with duck under his arm walk into a bar ...
Mr. Crump Don't Like It - Never play where you get the pay.
The Tale Of Two Shelves - You never know what you can do yourself.
The Smile - A touching moment can happen at any time.
An Odd Demise - A locked room and spontaneous human combustion mystery.
Lepus Europaeus - Jack Lago tries to unravel an Easter mystery.
Toradh Of The Gem - Jack Lago solves the case of thieving faeries.
The Abere - Jack Lago and the beautiful man-eating crocodile woman.
Enjoy a sample. Click the link and the pdf will open.
My House
Listen as Allan Gilbreath reads The Little Demon Doubt Play Now.

Listen to the Radio Production of The Abere Play Now.