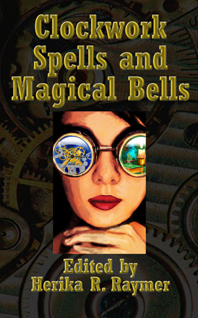 Steampunk Machinery Versus Magic! The Victorian era brought us the wonderful world of steam powered gadgetry and industry. It also still held many of the old beliefs. The Challenge: to write intriguing steampunk tales with a twist - magic versus machine.
The Stories:
Ironwork Falcon
by Jackie Gamber - Magic and metal, sometimes at odds, can work great beauty
Discombobulation
by Robert J. Krog - Even the most ambitious magician can overestimate his own abilities
Moved To Action
by Angelia Sparrow - Labor problems are not always restricted to humankind
The Taste Of Treasure
by Kathryn Sullivan - A precious item is often defined by the one who appreciates it most
Quest For The Dragon's Scale
by M. R. Williamson - A race, a prize, and a lesson about both
A Bit Of A Bind
by CRS Bailey - Who wears the corset does not define the person inside
The Leprechaun's Story
by J. L. Mulvihill - A chance encounter on the river turns into an interesting take on luck
The Witch Of Midnight Hollow
by Alexander S. Brown - The great detective faces a new supernatural challenge
When The Heart Lies Open To Steam And Star
by Anne E. Barringer - A mix of magic and mechanics to serve a Queen, with a cup of tea to top it off
Wax Seal
by Mandi M. Lynch - Oppressed magical healing may be the last, forbidden hope of a dying royal
Survival
by S. P. Dorning - That you are enemies does not mean you cannot respect each other
The Black Dress
by Nick Valentino - Innovation in fashion can be equal to just about any task
Words in Eden
- Lewis Sanders - A prayer, or a confession?
Time
by Windsong Levitch - Two ways of looking at time, from those who measure it and those who live it
Adventure
: A Series of Steampunk Haiku by Michael Greenway - Ten haiku on a theme