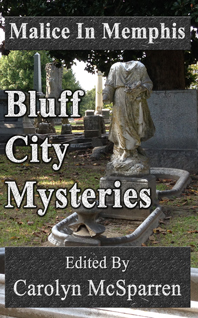 Mystery and Murder
All the stories in
Malice In Memphis: Bluff City Mysteries
are pure fiction, even if the locations in which they take place aren't. Our mystery writers group, Malice in Memphis, is always looking for interesting local landmarks to use as settings for great mysteries. The characters who inhabit these places in our stories are also fictional, as are the things they do, both good and bad.
Mystery writers walk into a room for the first time and consider where we could most efficiently kill somebody in an interesting way. We discuss untraceable poisons in restaurants-and terrify the poor people who wait on us. We wonder whether the beam that runs across the ceiling in church would hold up a hanging corpse, and how long a dagger would have to be to puncture a heart.
We are essentially peaceful. We can always bump off unpleasant people in our writing. No reason to do it in actuality.
So don't blame the blameless landmarks we've used. Remember, it's all fiction.
The Tales:
An Artful Death by Elizabeth Smith
Elmwood Blues by Phyllis Appleby
Fried Eggs and Paint by Cheryl Noland
Murder at the Peabody by Patricia Potter
Murder in Midtown by Kristi Bradley
The Queen of Hearts by Barbara Christopher
Night Fishing by Angelyn Sherrod
The Silver Star by James C. Paavola
The Cinderella Murder by Carolyn McSparren
Trivial Pursuit by Melissa Royer
Long Pig by Carolyn McSparren
Midnight Express by Angelyn Sherrod
Voodoo Village by Kristi Bradley
Mutiny on Mud Island by Juanita Dunn Houston
Putting on the Blitz! by Phyllis Appleby
Enjoy a sample. Click the link and the pdf will open.
Long Pig