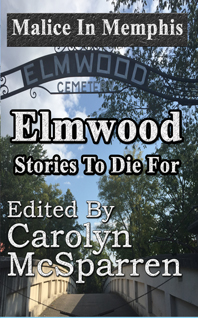 2018 Winner of the Imadjinn Award for Best Anthology or Collection
Stories To Die For
The amazing storytellers of Malice in Memphis specialize in taking historical locations and fictionally embellishing them with new characters, mysteries, and murder. They have now taken on Memphis' finest and oldest active burial ground, the famous Elmwood Cemetery.
Founded in 1852, it is the final resting place of over 75,000 residents. From the common to the infamous, from the powerful to the famous, they are all here. The tapestry of life and death in the Mid-South is laid out in a beautiful garden cemetery with sweeping vistas, massive ancient trees, and spectacular monuments from the Victorian age to modern sculptures.
Malice in Memphis is now adding their special touch to the myriad of stories drifting among the mausoleums.
The Tales:
A Love Story by Mary Balsamo
An Elmwood Misadventure by Juanita D. Houston
A Part to Die For by Richard Powell
Bloodline, by Angelyn Sherrod
Date Night by Larry Hoy
Forget Me Nots by Elaine Meece
From Hair to Eternity by Phyllis Appleby
Grave Robbers by Kristi Bradley
Graveyard Grace by Barbara Christopher
Headshrinker by Susan Wooten
Hold Please by Lynn Maples
One Dare Too Many by Annette Miller
Public Death Private Murder by Carolyn McSparren
The 21st Battalion Will March at Dawn by Dutch Warren
The Furnace Room by James C. Paavola
The Yellow Fever Revenge by Jackie Ross Flaum
Unsolved Forever by Thomas Kienzle
A Very Worthy Human Being by Richard Powell
Returning to Russwood Park by Barbara Christopher
One Big Foot in the Grave by Phyllis Appleby
Rainbow Lake by Kristi Bradley
Fort Pillow Escape by Juanita D. Houston
Holding On To You by Angelyn Sherrod
Enjoy a sample. Click the link and the pdf will open.
Grave Robbers